Writing

[You need Acrobat Reader to view these documents. Don't have it? Download it here.
Business Writing – Magazines and Newspapers
Danny Kucharsky has written for a huge variety of business magazines (Marketing Magazine, Profit), business newspapers (This Week in Business, Report on Business), business news services (Bloomberg News) and trade magazines from top (Wings) to bottom (The Northern Miner) and everything in between (Investment Executive, Masthead). Examples:


Creative brain drain
Marketing Magazine, Quebec Supplement, December 2006
The next time you're on a flight from Montreal to Toronto or Vancouver, you may be joined by more than just desperate ex-pats and tourists smelling up the cabin with the St. Viateur bagels or smoked meat they're bringing back home. [read more]
Quebec, More or Less? Is there a significant change in the amount of made-in-Quebec advertising? Danny Kucharsky examines how the debate over French adaptations of English ads has evolved into one of regionalizing national and global strategies
Marketing Magazine, July 17/24, 2006 
When Quebec advertising pioneer Jacques Bouchard returned to Quebec a few years ago after living more than a decade in France, he reportedly deplored what he saw as a return, in force, of translated TV ads. "Did we bloody our noses for nothing in the 1960s?" said the man credited with leading the fight against adaptations and for original made-in-Quebec creative. [read more]
Something Akin to Fun: Alimentation Couche-Tard
Marketing Magazine, December 13, 2004 
Sure, the Sloche frozen drink is a proven marketing success in Quebec. But when you've become the fourth largest convenience store operator in North America-and Canada's third largest retailer-you're doing a lot of other marketing efforts right. [read more]
Convergence Redeemers: Critics can no longer discount Pierre Karl Peladeau's ability to orchestrate Quebecor's media properties into a financially successful model of convergence
Marketing Magazine, January 26, 2004 
The great year Pierre Karl Peladeau had in 2003 can easily be seen in the contrasting business headlines published exactly one year apart:
-"The perils of Pierre Karl" (Report on Business magazine, December 2002).
-"Peladeau: A year of redemption" (Financial Post, Dec. 23, 2003).
It was that kind of year for Peladeau, president and CEO of Quebecor Media and Quebecor Inc. In 2002, he was one of the most vilified CEOs in Canada. The next year, he and his giant media empire are almost hailed as princes. [read more]
The Big Cheese: Saputo sells more natural cheese than anyone else in Canada but its goal is to become a national household name
Marketing Magazine, June 14, 2004

Saputo may be the big cheese of cheese in Canada, but most Canadians outside of Quebec "think we're Korean carmakers." So says Mario Demers, national marketing director, Saputo dairy products at Saputo Inc., which sells 35% of all natural cheese in Canada ahead of such names as Parmalat, Agropur and Kraft. Although the Saint-Leonard, Que.-based company sells $2-billion worth of dairy products annually in Canada (and $3.4 billion once U.S. cheese and Vachon bakery sales are factored in), Saputo brand recognition is at only about 3% outside of Quebec. [read more]
ExportWise
Looking beyond the housing market
ExportWise, Spring 2008
When the Freedom Tower – the skyscraper that will replace the World Trade Center – is erected in Lower Manhattan in 2011, it will be supported by Canadian expertise. [read more]


Home buyers join downsize trend
Report on Business, February 26, 1993
Home builders are finding that people confident enough to buy homes in the recession-weary market are unwilling to let their homes be a ball and chain. [read more]

Former radio exec scopes print empire
Masthead, November/December 2003 
Richard Desmarais is a big fan of the Montreal Canadiens. And, as any Habs fan knows, sitting in the reds at the old Montreal Forum meant you were close to the action.
That's why he and partner Jean-Pierre Rancourt chose the name Section Rouge Média when they teamed up in 2000 to form their upstart magazine publishing company, which now has 36 titles to its name. [read more]
Parlez-Vous Advertising? Quebec Books Battle to Be Heard in Toronto
Masthead, February 1995 
(Excerpt) When it comes to convincing Toronto-based national advertisers and agencies to place their ads in Quebec magazines, the two solitudes still exist. But, happily, that factor appears to be on the wane.
While it remains a challenge for popular French-language magazines with no English-language equivalent to convince national advertisers to do business with them, things are changing for the better, say ad reps and publishers interviewed by Masthead.
With a lot of hard work, publishers are slowly succeeding at convincing often conservative, sometimes snobbish clients to put their advertising dollars in lowbrow weekly magazines such as 7 Jours and Le Lundi, which are totally foreign to them…


Bombardier Chairman Sees No Slowdown in Sales of Jet Boats
Bloomberg News
(Excerpt) Montreal, June 21 – Bombardier Inc. expects sales of its jet boats and other watercraft to accelerate through the summer, its chief executive said.
"There's not yet any sign of a slowdown in the economy for consumer products," Laurent Beaudoin, chairman and chief executive of Bombardier told reporters after today's annual meeting.
"Dealers are forecasting a strong increase" in sales of the company's line of Sea-Doo watercraft, Beaudoin said.
To meet that anticipated demand, Montreal-based Bombardier in April agreed to acquire Celebrity Boats Inc. of Benton, Illinois and Le Groupe AMT Marine Inc. in St. Antoine de Tilly, Quebec. The acquisitions should be completed next month.
Bombardier also is spending C$60 million (US$43.8 million) of its C$250 million capital budget this year to expand its existing speed boat and snowmobile manufacturing plants, company executives said.


Happy in the Red
Profit, June 2006
When pork producer Martin Le Moine started cranberry farming in 1993, he and his partners saw it as a mere pastime that would keep them busy in retirement. The ardent environmentalist also decided to go organic before it was in vogue, in the process becoming North America's first large-scale organic cranberry producer. "I wanted to do something good," says Le Moine, "not just grow cranberries for the sake of growing cranberries." [read more]
E-Z Does It
Profit, March 1993
Manitoba brothers-in-law Guy Bouvier and Robert Carrière logged countless hours with their kids on local skating rinks. But fun turned to frustration as they saw children hurt themselves using chairs and pylons while learning to skate. That concern led them to develop E-Z Skater, a $36.95 prop that gives 2-to-10-year-olds the stability they need to develop proper balance and skating skills.
Railway worker Bouvier and Carrière, a cabinet-maker, built their prototype at home in Otterburne, 50 km south of Winnipeg, in 1990. Made from tubular steel, the E-Z Skater works much like a walker. A horizontal crossbar steadies the skater while twin runners glide along the ice. Investing $45,000 to form Carvier Innovations Inc., the pair unveiled E-Z Skater at a sporting goods show in 1991.
Carvier has now sold 1,000 E-Z Skaters in sports stores across Canada, and Boston distributor Bosmosco Inc. is selling the device in Russia. Last year Bouvier and Carrière introduced an E-Z Skater for adults, and now they're branching out into new products for summer sports.

Corporate and PR Writing
Danny Kucharsky's writing and editing for corporate clients and public relations firms ranges from press releases and brochures to newsletters, columns and reports. He can also provide all forms of written communications – from speechwriting to Internet content.

Press Releases
Canada Steamship Lines Opens Marketing Office in Halifax
Excerpt (Montreal) Buoyed by increased business prospects in the Atlantic provinces, the international shipping company Canada Steamship Lines (CSL) has opened its first-ever marketing office in Halifax.
At the helm as director, Atlantic, is Wayne Morrison, whose functions will include marketing and customer service for domestic and international customers and coordination of all coal marketing efforts in the Atlantic area. "Whatever buoyancy our business has in Canada is related to the Maritimes," says Morrison.
He notes that opening an office in the key Maritime port city of Halifax positions CSL to deliver a quick response to new business opportunities in all four Atlantic provinces. "This move allows CSL to stay ahead of the competition," Morrison says.
With an extensive background in coal marketing at the Cape Breton Development Corp.'s Devco Coal of Sydney, Nova Scotia and five years experience at CSL, Morrison is ideally suited for his new position as CSL point man for the Atlantic provinces.
Morrison notes there are several ongoing and upcoming major projects in the Atlantic region in which CSL plays a prominent transportation role…
Excerpt from a press release about a firm that provides counselling to employees who have undergone trauma:
When the National bank wants to help distraught tellers after a bank robbery, it turns to Montreal-based Proact EAP Inc., one of the few Canadian firms to offer a Critical Incidence Response Program to companies.
"Nobody can get used to being held up," says Louise Devost, coordinator of the National Bank's worker safety program in Montreal. "And that's why Proact EAP's service is important."
Proact EAP's Critical Incidence Response Program is a psychological counselling service given to people who have endured extremely traumatic situations – like bank robberies….

Brochures
Excerpt from a series of brochures for the Business Development Bank of Canada
Mentoring: Helping you implement business solutions
Our promise: Each Mentoring program starts with a complete assessment of your needs, the needs of your business and the needs of others in the group. We use this information to customize our training to make it as relevant and timely as possible. As we strive to develop a long-lasting and supportive relationship, we then follow-up to evaluate your efforts in applying new-found business-concept.
Our products: Step Up, Mentoring for Women Entrepreneurs
If your business is past the start-up stage and you've decided you want to expand, Step Up is for you. This program matches up to 30 women business owners with female mentors who operate successful businesses that have already expanded. A mentor is assigned to each businesss to assist protégés with planning and implementation, as well as to provide moral support and networking opportunities.

Columns
A weekly column written for the Greater Montreal Real Estate Board, published for several years in The Gazette in Montreal:
Home ownership today, ways to avoid costly mistakes
Since a house is likely to be the biggest purchase you'll ever make, you'll want to avoid making costly mistakes when shopping for one. There are several steps you can take to avoid falling into the trap of buying a home that is not suitable for you or requires costly repairs. [read more]

Newsletters
Excerpt from a series of newsletters aimed at Quebec hairdressers, promoting the Pharmacia and Upjohn hair growth treatment Rogaine (translated from original French)
Baldness – its causes and solutions
Men have always been obsessed by baldness and have long sought its cause – often coming up with crazy reasons. Too much hairwashing, too tight a part, or certain foods are just some of the causes that have been cited to explain the phenomenon.
In 1965, an anatomy professor at Harvard University declared that the real cause of baldness was too much intelligence. According to his theory, the brain becomes too big in intelligent men, putting pressure on the scalp and making it difficult to retain hair!…

Reports
Excerpt from the book Tools of the Trade 2000 (Les éditions Ma Carrière), a vocational and technical career guide for youth
Profile of a gold-collar worker
Blue-collar workers have had their day; employment in manufacturing has been declining for decades. White-collar workers have also become casualties of the business world, thanks to the corporate downsizing of the 1990s. New technologies are taking over many of the routine tasks performed in the workplace. As a result, workers are being directed toward more complex tasks that require thinking, understanding, knowledge and problem solving. The new technologies not only free employees for more sophisticated tasks, but also place increased pressure on them to develp skills that will enable them to participate in the workforce.
These new 'gold-collar' workers work with ideas and make decisions. They work with their brains. They are multi-skilled: equally adept at being generalists and specialists. While gold-collar workers have high-level skills, most do not have university degrees…

Medical and Science Writing
Danny Kucharsky's medical and science writing extends from coverage of medical conferences for Internet sites, news releases for public relations firms with pharmaceutical clients, articles for medical magazines and reports for healthcare communications firms. See examples:
Medical Conference Coverage for Web Sites
From Medscape
Most Patients With Ulcerative Colitis Remain in Remission After 12 Months of MMX Mesalamine Therapy
PHILADELPHIA – November 2, 2007 — The majority of ulcerative colitis patients with both left-sided and extensive disease remain in remission after receiving once-daily mesalamine with multimatrix system (MMX mesalamine; Lialda, Shire US, Inc) as maintenance therapy for 12 months, a study finds. In a related study, MMX mesalamine was efficacious for remission maintenance of both mild and moderate ulcerative colitis. [read more]
From Docguide.com
Nicotine Patches Safe in Patients With Coronary Artery Disease
NEW ORLEANS, LA — March 28, 2007 — Nicotine patches do not increase stress-induced myocardial ischaemia and appear to be a safe way to aid smoking cessation in patients with coronary artery disease (CAD) and active ischaemia, according to a study presented here at the 56th annual scientific session of the American College of Cardiology (ACC). [read more]
Study Points to Best Triple-Drug Regimens for Initial Treatment of HIV-1 Infection
TORONTO — August 21, 2006 — A triple-drug therapy that combines efavirenz plus 2 nucleoside reverse transcriptase inhibitors (NRTIs) is more effective at reducing viral load than the triple-drug therapy of lopinavir/ritonavir plus 2 NRTIs, a head-to-head comparison of the 2 commonly used HIV treatments has found. [read more]
Fixed-Dose Epoetin Alfa Shows Efficacy and Safety for Cancer-Associated Anaemia
STOCKHOLM, SWEDEN — June 9, 2005 — Epoetin alfa administered at a fixed dose of 40,000 IU once weekly may offer efficacy and safety comparable with that of weight-based dosing for patients with cancer-associated anaemia, according to a retrospective analysis presented here at the 10th Congress of the European Hematology Association (EHA). [read more]
CINP: Olanzapine Linked to Increased Risk of Diabetes
MONTREAL, QC — June 27, 2002 — Olanzapine is associated with a statistically significantly higher risk of development of diabetes among schizophrenia patients than is risperidone or conventional antipsychotics, according to researchers in the United States.
The findings were presented here June 26th at the 23rd Congress of the Collegium Internationale Neuro-Psychopharmacologicum (CINP). [read more]
Lifestyle Benefits for Zaleplon Over Older Sedative Hypnotics
MONTREAL, QC – June 24, 2002 – Zaleplon may allow insomnia patients to have a more flexible lifestyle than other sleep medications, a study has found. A cross-sectional study of 352 insomnia patients compared patient-reported effectiveness and satisfaction of the newer sedative hypnotics (such as zaleplon and zolpidem) compared to the older sedative hypnotics (such as trazodone and benzodiazepines). It was presented at the 23rd Collegium International Neuro-Psychopharmacologicum Congress. ). [read more]

News Releases
Proton pump inhibitor pantoprazole provides rapid relief from reflux, largest-ever Canadian gastro study finds
TORONTO, ON – July 29, 2002 Symptoms of gastroesophageal reflux (GERD) improve significantly within days after treatment with the proton-pump inhibitor (PPI) pantoprazole has been initiated, and almost one-third of patients are completely free of symptoms by day 7. Those are among the results of the largest gastro study ever undertaken in Canada. [read more]
Use Triple Therapy For Helicobacter Pylori Eradication, New Consensus Guidelines Say
QUEBEC CITY, February 1997 – Triple therapy is the treatment of choice for the eradication of the Helicobacter pylori bacteria, according to new gastroenterology consensus guidelines on the management of H. pylori and peptic ulcer disease. [read more]

Medical Magazines
New study tracks onset of schizophrenia in children: mapping changes in brain's white matter may open window to early diagnosis, treatment
Medical Post, April 20, 1999
MONTREAL – Researchers have discovered a clue that may help explain why schizophrenia often does not develop until late adolescence. And, if further studies go well, physicians may eventually be able to identify children and teenagers at risk of developing the disease. [read more]
Most patients satisfied after breast reduction
Medical Post, August 10, 1999
MONTREAL – Most women who have breast reduction surgery are highly satisfied with the results and feel much better about themselves, a survey presented at the annual meeting of the Canadian Society of Plastic Surgeons shows. As well as physical benefits breast reductions provide, the study showed clear evidence of the psychological benefits of surgery, noted Dr. Catherine Haywood, a resident in the University of Toronto's plastic surgery program. [read more]
Does Tamoxifen Improve Endothelial Function?
Chronicle of Cardiovascular & Internal Medicine, February 2000
Chronic tamoxifen therapy improves impaired endothelial function in postmenopausal women with breast cancer, a study has found.
"Endothelial function precedes atherosclerosis," Dr. Benjamin Chow, University of Ottawa Heart Institute reported at the 52nd annual meeting of the Canadian Cardiovascular Society in Quebec City. "And since estrogens have been shown to improve endothelial function, and tamoxifen is a partial estrogen receptor agonist, we wondered if tamoxifen also exerted benefits on the endothelial function." [read more]
Fear of Developing AD More Common in Women
Chronicle of Neurology & Psychiatry, June 2000
Physicians should be prepared to counsel children of Alzheimer's disease patients, as many of these individuals are concerned that they too will eventually develop the disease, says a physician who works with these families. [read more]
The Effects of Aging on Incontinence
Chronicle of Urology & Sexual Medicine, February 2000
There is an urgent need for studies of the long-term consequences of menopause on incontinence, says the director of the Geriatric Incontinence Clinic at the Montreal General Hospital. [read more]
Docs don't like their patients using the 'Net
Chronicle of Healthcare Marketing, May 2002
First the good news: Most physicians are Internet savvy. Now the bad news: It seems many physicians dislike the Internet and are concerned about the way their patients are surfing through healthcare Web sites. [read more]
A consumer products guru offers advice on how to rebuild a mature (baby) brand
Chronicle of Healthcare Marketing, September 2001
Removing the image of a Caucasian baby and replacing it with a heart was the key to revitalizing Pampers diapers, which is often found on lists of the world's most beloved brands. [read more]

Reports
New Advances in Combination Therapy For Ovarian Cancer
Atlanta – Ovarian cancer accounts for 4% of all cancers among women. The five-year relative survival rate for all stages of ovarian cancer – the most deadly cancer of the female reproductive system – is 50%. It has been previously demonstrated that a combination of cisplatin plus paclitaxel is superior to cisplatin plus cyclophosphamide as chemotherapy for previously untreated advanced stage ovarian cancer patients. [read more]
Current Controversies in Adult Outpatient Anesthesia
Montreal – The practice of ambulatory anesthesia has changed dramatically in recent years. So great has been the change that outpatients in the United States are by far the major recipients of anesthetics. With these changes have come questions such as whether it is cost-effective to use new agents such as sevoflurane. [read more]

Other Writing
NEW! Danny Kucharsky's book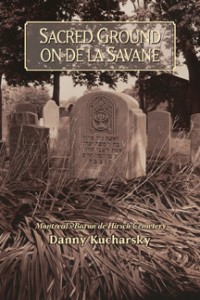 Sacred Ground on de la Savane: Montreal's Baron de Hirsch Cemetery
At the turn of the 20th century, more Jewish immigrants were arriving in Montreal than anywhere else on the continent, and the city's small middle-class Jewish community suddenly had to meet the burial needs of many new, mostly poor arrivals, who had little affiliation with the local congregations. Out of this crisis, the Baron de Hirsch Cemetery, one of Canada's largest Jewish cemeteries, was established on an undeveloped expanse of swampland in the heart of the city. [read more] [Read an excerpt here] [See reviews here and here]
No such thing as an ideal smile
Chicago Tribune, July 28, 1999
MONTREAL – While there may be some general consensus about an ideal female body shape, there is no such thing as an ideal smile, a Canadian study has found.
"There really isn't a common parameter to define an attractive smile," said Dr. Leila Kasrai, a resident in plastic surgery at Toronto General Hospital who discussed the study at the recent annual meeting of the Canadian Society of Plastic Surgeons.
The study was conducted to give plastic surgeons a range of acceptable values for the smile in patients requiring reconstructive surgery.
Thirty photographs of smiling female fashion models were selected from 15 American and Canadian fashion magazines. The smiling images were scanned into a computer, with several measurements taken.
Overall, more variabilities than features in common were found.While there was very little difference in smile width – which was generally equal to the distance between the pupils of the eyes – smile height as a percentage of total facial height ranged from 7 percent to 10 percent.
Surprisingly, "these attractive supermodels all had a lot of gum showing," she added. The majority of the models had gingiva showing – about 2 percent of total facial height. It is generally thought that a gummy smile may not be attractive and gumline reduction is popular in aesthetic dentistry.
The new values: Love, children and dinks; Quebec, by far, leads the nation in children born out of wedlock
The Toronto Sun , Sunday, February 4, 1996
Guylaine Drouin jokes that the only way she will ever marry the man she's lived with for 13 years is if there's a civil war, and the government calls up all unmarried men. "To me, marriage doesn't have much significance," says the Quebec government administrative assistant. "It's just a piece of paper. We live like a married couple without being married." [read more]

From the travel book Access Montreal & Quebec City (Harpers Collins), excerpts from Underground Montreal and Ste. Catherine chapters written by Danny Kucharsky
"Neither winter blizzards nor the hot and humid dog days of summer can frazzle Montrealers, thanks to Underground Montreal, a temperature-controlled subterranean city linking shopping centers and offices via pedestrian corridors and the Metro. Underground Montreal is one of the largest of its kind in the world, used by more than 250,000 people each day. It began in 1962 with the completion of the Place Ville Marie office and shopping complex, the first building in Montreal to have an underground shopping mall, which proved to be a hit, and in turn attracted a slew of private developers, who in hodgepodge fashion created this gargantuan city within a city…"
"(Ste. Catherine) street got its name between 1801 and 1817, but historians are still arguing over whether it was meant to honor St. Catherine of Alexandria, St. Catherine of Sienna, or another St. Catherine. Most do agree, however, that it has never been particularly saintly, and has definitely become less so in recent years. Strip joints with names such as Super Sexe have proliferated to the embarrassment of Montreal's city council, which has tried without success to force club owners to take down their gaudy, sexist signs…"
A collision of cultures
Maclean's, September 14, 1987
On a Friday morning at the Boulangerie Cachère faite à la maison, a kosher bakery on Bernard Avenue, black-clad Hasidim – ultra-orthodox Jews – banter in Yiddish and purchase challah, traditional egg bread, and other last-minute items for the evening Sabbath meal. Next door at fashionable Pierre-Olivier Décor, smartly-dressed francophone shoppers browse through expensive imported housewares. The scene in Outremont, one of Montreal's central residential communities, appears to be one of peaceful coexistence between tradition and urban chic. But in reality a gulf has opened between the two distinct cultures – and has reached the city council and the pages of the local newspaper. [read more]

All-night Alcothons one way to resist lure of the last call
The Gazette (Montreal), July 6, 1985
It was 2:15 a.m. yesterday morning, a time better suited to sleeping than to taking part in a sobering educational exerience. The early-morning hour didn't prevent several hundred members of Alcoholics Anonymous from attending marathon round-the-clock meetings at Le Grand Hotel (formerly the Hyatt Regency). Hundreds more AA members filled the hotel's lobby and hospitality suites. [read more]
Seven killed in Park Ex blaze
The Gazette, January 2, 1986, shared byline
The death toll from a horrific New Year's Day fire reached seven late yesterday as firefighters found the bodies of a mother and a father clutching two dead children in the ruins of a four-storey Park Extension apartment. [read more]
Bulldog get-together had a few wrinkles
The Gazette, August 19, 1985
It was a dog day afternoon bulldog variety at downtown Percy Walters Park yesterday as bulldog owners paraded their wrinkled, slobbering pets around. The first annual Bulldog Club meeting brought together bulldogs and owners in what organizer Jill Salomon called a rare, friendly, and non-competitive event. Knots of camera-clicking admirers stared at the $800 pets as the dogs panted in the noon heat. "I don't know how much fun they're having, but the people seem to enjoy it," said Howard Levine of Cote St. Luc. [read more]
Rioting, looting mar Habs' Cup win; Merchants claim police slow to act
The Gazette, May 26, 1986, shared byline
Downtown merchants bitterly counted their losses yesterday, after a night of rioting and looting touched off by the Montreal Canadiens' Stanley Cup win. Stores were looted, windows smashed, a firetruck stripped of its equipment, a huge bonfire lit in the middle of St. Catherine St., and cars stomped and overturned as thousands of celebrants converged downtown early yesterday after the Canadiens' series-ending victory in Calgary Saturday night. [read more]
This bud's for you: Retired florist offers seniors free flowers
The Gazette, August 16, 1985
When florist John Cornfield, 91, retired from his Notre Dame de Grace flower shop four years ago, he decided to turn over a new leaf. Now, instead of selling flowers, he gives them away to senior citizens. "It makes people happy," says Cornfield, who turns 92 on Sunday. [read more]